Now onto this week's challenge.
Challenge 46

The sponsors this week are First we have Our monthly Sponsor
Fantastic Ribbons.
this week giving one lucky winner some beautiful Ribbons.
Then we have a new sponsor to Creative Inspirations that will be .. Papercupcakes this is a Digi web shop who have loads digi images and many designers but the main ingredient is Love!They also have a challenge blog here .They are kindly giving away 2 digi images to the lucky winner:Thanks Nina!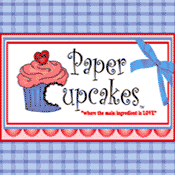 So onto this weeks challenge and what do you have to do to win these fab prizes
The challenge this week
Has been choosen by our lovely Senior DT Suzi.
Suzi has choosen the theme of :
Glitter ,Glamour ,Girlie
This what you have to do to enter and be in with a chance to win
1.Post your new card or project made by yourself on your blogwith a direct link to this challenge.This must be a new card(please make sure it's direct link! not just the blog)
2.Leave link with Mr Links this must be a direct link to your entry
.3.Entries to be in by 10am on the
Sat 13th November to be in with a chance to win!
4.If you don't have an blog that's fine you can email Jude your entries to ;
andrewjude45@hotmail.com
.
5.This is important:Please note as from now each entry has to have a direct link to the card /project for this challenge. Not a direct link to your blog otherwise they will not be included into the draw.
Here's what I made for this challenge and please take a look at other DTs from the blog to see what amazing talent they have.
Hugs, Irene